Alexander Archipenko

Biography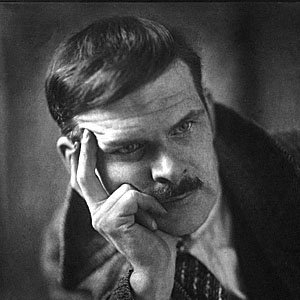 Alexander Archipenko (American/Ukrainian, 1887–1964)
Browse Alexander Archipenko Catalogue Raisonnés Online.
Russian-born sculptor who became an American citizen in 1928. Alexander Archipenko studied at the art school in his native Kiev from 1902 to 1905, when he was expelled for criticizing the academic attitudes of his teachers. In 1906 he moved to Moscow and in 1908 to Paris, where he left the Ecole des Beaux-Arts after two weeks' study, again showing his impatience of discipline. Instead, he studied ancient and medieval sculpture in the Louvre, and some of the work of his early years in Paris (mainly female figures) is in a primitivistic manner recalling Egyptian art. In about 1910, however, he was introduced to Cubism by Leger (whose studio was near his own) and he became one of the outstanding sculptors of the movement. In works such as the bronze Walking Woman (Denver Art Museum, 1912) he analysed the human figure into geometrical forms and opened it up with concavities and a central hole to create a contrast of solid and void, thus ushering in a new sculptural idiom: George Heard Hamilton writes that 'This is the first instance in modern sculpture of the use of a hole to signify more than a void, in fact the opposite of a void, because by recalling the original volume the hole acquires a shape and structure of its own'. In the same year, with Médrano I (destroyed), Archipenko began making sculptures that were assembled from pieces of commonplace materials, parallelling the work of Picasso; Médrano II (Guggenheim Museum, New York, 1913) is made of painted tin, wood, glass, and painted oilcloth. (Médrano was the name of a circus in Paris much frequented by artists; these two figures represented performers there.)
Archipenko quickly built up a reputation in France and elsewhere, particularly in Germany. In 1912 he had a one-man exhibition at the Folkwang Museum in Hagen and in 1913 one at the Sturm Gallery in Berlin; also in 1913 his work was included in the Armory Show in New York. His rise to international prominence was interrupted by the First World War, during which he lived in Cimiez, a suburb of Nice; his work of this period included a number of sculpto-paintings, a type of work he created in which forms project from and develop a painted background. After the war he soon relaunched his career, organizing an exhibition of his work that toured widely in Europe in 1919-21 (Athens, Brussels, Geneva, London, Munich, among several other cities). He also exhibited at the Venice Biennale in 1920, on which occasion his work was condemned by a Venetian cardinal. His first one-man show in the USA was given by the Société Anonyme in New York in 1921. At this period he was undoubtedly the best known and most influential of all Cubist sculptors.
From 1921 to 1923 Archipenko lived in Berlin, where he ran an art school, then emigrated to the USA. He lived, worked, and taught in various places, but chiefly in New York, where he directed his own school of sculpture from 1939 until his death. The work he did in America did not compare in quality or historical importance with that of his European period, but he continued to be highly inventive. In 1924, for example, he invented the Archipentura (a kind of Yinetic painting), and after the Second World War he experimented with 'light' sculptures, making structures of plastic lit from within. His work was influential in both Europe and America, notably in the revival of polychromy, in the use of new materials, and in pointing the way from the sculpture of solid form towards one of space and light.